Resistance Band: Booty Workout At Home Part 2
November 3, 2023
2023-11-06 16:20
Resistance Band: Booty Workout At Home Part 2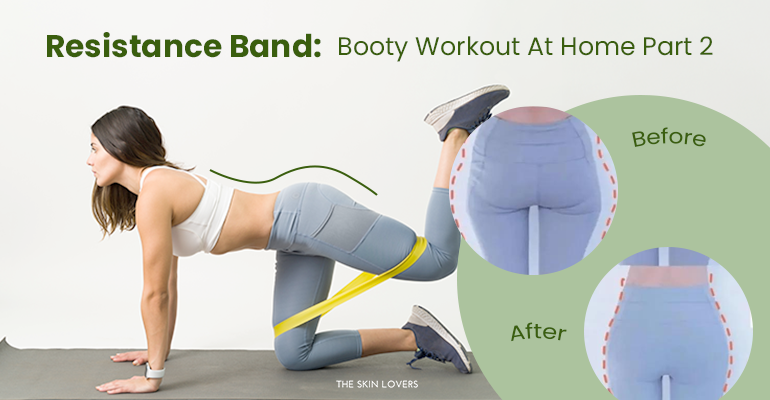 Resistance Band: Booty Workout At Home Part 2
Part 2 of Your Journey to a Picture-Perfect Booty
Building on the foundation laid in part one, we continue to harness the elegance and cost-effective power of resistance bands. This sequel is designed to further refine and tone your lower body, all from the exclusive setting of your abode. With three new bespoke workouts, each more cost-friendly than any upscale gym membership, part two of our series is your invitation to continue crafting that envy-inducing silhouette at home. Prepare to elevate your fitness narrative as we once again turn simplicity into luxury.
3 Additional At Home Booty Workout
Step onto one end of the resistant band with your left foot and hold the other end with your left hand.
Keeping a slight bend in the knees, lowering your torso while keeping the back straight.
Slowly rise to the starting position, squeezing the glutes at the top.
Repeat 15 times each for left and right.
Rest for 20 seconds. Aim for 3-4 sets in total.
Slide the resistance band up to above your knee.
Lean against the wall & position both feet firmly on the floor & squat slightly. 
Maintain your position as your lift your left leg 15 times.
Repeat this exercise on your right leg.
Repeat 3 – 4 session, 20 second break in between. 
Slide the resistance band up to above your knee.
Position yourself, feet apart but firmly on the floor.
Squat down 90 degree until your legs are parallel to the floor. 
Slowly rise back to a standing position.
Repeat this exercise 15 times, 3 – 4 session. 20 second break between each session.
Cherish the progress made and anticipate the enhancements yet to come. Keep these bands close, for they are the threads weaving through the tapestry of your fitness evolution. Until we meet again in part three, may your workouts be as cost-effective as they are effective, and your results as profound as they are prominent.